Laser Therapy 
Lasers are not only for Star Wars. In fact today lasers are used in eye surgery, missile guiding, and in our office for therapeutic purposes. Our Helena chiropractic clinic is your go to location for laser therapy. Dr. Bridge is laser certified and gets tremendous results for his patients. 
Laser therapy is extemely successful in helping people heal  from injuries starting with plantar fasciitis, to knee pain, to carpal tunner syndrom. Laser focuses its power into the problem area, accellerating the body's healing process.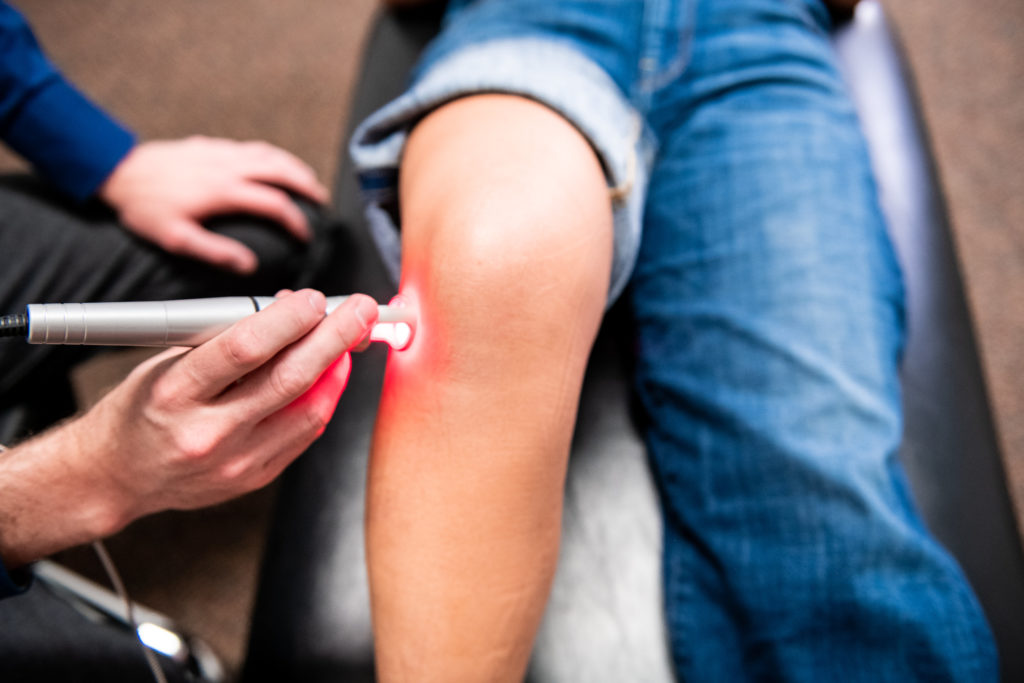 If you're struggling with muscle, tendon, or ligament injuries, laser therapy may be the best plan of attack, leading you safely through the healing process. 
Contact us today to learn more about this life-changing procedure!
What is Laser Therapy? 
Our clinic uses a class IV laser called K-Laser. K-laser is the gold standard when it comes to class IV laser therapy.  It utilizes high powered laser energy in specific wave lengths to promote healing and tissue regeneration at the cellular level.
Due to the specific wavelengths of laser light used, this technology enhances the body's innate healing response.
When this device is used over the body, the patient experiences a warm relaxing sensation.  There is no pain involved with the treatment.
What Does Laser Therapy Do?
K-laser produces an effect in the body much like photosynthesis in plants.  The light energy penetrates the skin and causes an effect called photobiomodulation.  The laser energy enhances the body's innate healing processes by bringing increased bloodflow to the target area.  It also stimulates tissue repair and decreases pain levels. 
How Is Laser Therapy Applied?
When this procedure is used, we wear safety glasses to protect our eyes from the lasers. The laser light is shined over the target area for a set period of time. The laser can be set to high or low-energy waves.
Does Laser Therapy Hurt?
The patient feels no discomfort during the treatment.  In fact, the treatment is extemely comfortable and relaxing. 
Our team will communicate with you throughout the procedure and ask questions regarding temperature level. If ever a patient feels like the treatment is too warm, we are able to adjust the energy output to meet their needs. We've had patients say "any chance I can take this thing home with me to help me fall asleep?"  Its that good.
Is Laser Therapy Safe?
Not only is laser therapy safe, but it's fast-acting, often providing immediate relief from pain and allowing for a significant increase in mobility, range of motion, and proper function of the muscles, ligaments, and tendons. 
Often time, the patient is feeling better and moving better in just a few treatments. Our laser therapy plans offer pain treatment without surgery or pain medication and are designed to manage your specific pain points.
Talking about safety, laser therapy can prevent you from taking unneccessary medications, and in many cases can save you from needing surgery.
This is an outpatient, non-invasive therapy that has proven results for every kind of patient. If you have questions about how Laser Therapy can help you, contact us, and we'll give you all the facts. 
The Benefits of Laser Therapy 
Laser Therapy has several benefits that contribute to the organic healing process. Our team is well versed in finding the optimal services unique to your goals. We often combine our solutions and resources to ensure your wellness plan is as decisive and thorough as possible.
Some benefits you can expect to have when using Laser Therapy include: 
Increased blood and oxygen circulation 

Muscle repair

Decreased inflammation

Fast and effective pain relief

Decreased recovery time 

And more
Who & What Laser Therapy Helps
Most musculoskeletal injuries could benefit from laser therapy. We have worked with patients using laser therapy from as young as litlle kids to people in the 90s.  This technique attacks your pain at the source, getting you back to doing what you love quicker.
This method can be used on almost any kind of patient, including:
High school athletes

Sports and active people

Senior patients 

Inactive patients

Those involved in an accident: work-related accident, car accident, slip and fall, exercise or sports injury

Overuse injury patients 

And more
Some of the injuries our laser therapy technique will help with include:
Knee pain or motion loss in the knee, including jumper's knee
Neck pain
Back pain
Ankle pain or motion loss in the ankle
Plantar fasciitis
Tendonitis
Chronic pain and injury
Bursitis 
Impingement syndrome
Scar tissue
Shoulder discomfort
Elbow and wrist pain 
Tennis elbow and golfer's elbow
Rotator cuff injury 
Shoulder pain
And more 
Our team has seen laser therapy work magic on our patients, and we're ready to extend that to you. Its effects are quick and rewarding so if you're ready to start getting your quality of life back, let's do it. Make your appointment today! 
Visit our Helena Chiropractic Clinic
At our chiropractic clinic, you get a team of professionals who work to get your body healthy through the safest, most non-invasive methods. We value your time and understand that treating pain is more than masking it. Dr. Bridge will find the source of your discomfort and end it there.
Some of the chiropractic services we offer include:
Chiropractic adjustments
Instrument-assisted adjustments
Shockwave Therapy
FAKTR (Functional and Kinetic Treatment with Rehab)
Impulse adjusting
And more
Our plans are designed uniquely for you, giving you the skill set to carry on strengthening and empowering your body throughout life. We don't want to see you in our clinic for years; we want you to thrive. There's simply no time like the present to start.
Contact us and let go of your pain today.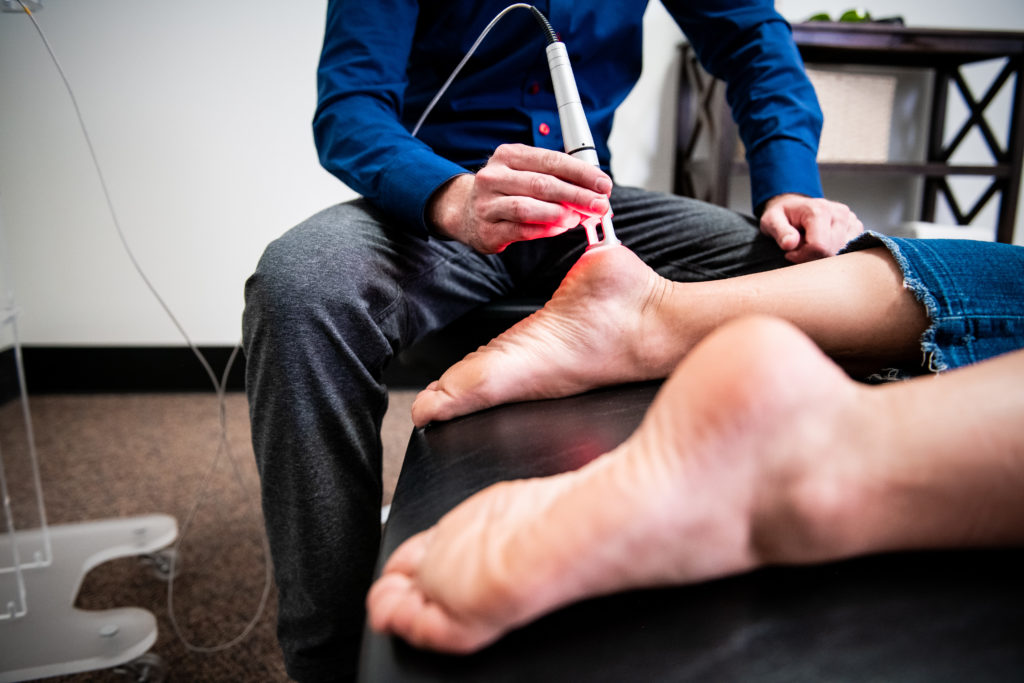 Laser Therapy for Helena, MT
Dr. Bridge and Julie are very professional and welcoming. I have an ongoing shoulder issue with weakness and loss of range of motion. Dr. Bridge uses new technology utilizing shock and laser treatments. So far I have had shock treatments and Dr. Bridge has also been working on my neck. I have noticed I have more range of motion, I'm gaining strength, and I'm only halfway through my treatment plan.
Stop struggling with your health and let's address your root problems through a personalized care plan that gets you moving and restores your health!